As a bit of a trigger warning to any potentially suited readers, this post contains modern black hat link building tactics.. I earned every link, by forking over hard earned cash and time.
If you happened to attend Chiang Mai 2018 or read my Money Hat Masterclass eBook, then you will of already likely read this story.. but here's a follow-up, with a bit of extra context and some new additions for 2019.
Introduction
A lot of people don't know this but I actually started my SEO blogging career in 2012 but I didn't see much from it until a guest post I did on Matthew Woodward's blog called Ranking For Rand Fishkin. This post was using black hat link building techniques of the time (2013) to rank for large monthly search keywords (In this case, Rand and the Moz branding) in stupidly quick times – We're talking a matter of weeks here.
This original post is how I met a lot of my friends, mentors & business partners in SEO. It was also the stepping stone for me to be able to sell links, and was the first time I'd gotten over 100 newsletter subscribers in a single day.
A lot has changed in the SEO landscape in that time, but at the same time, a lot of the theories and practices have realistically stayed very much the same.
You should probably still optimize a meta title, links are still the #1 ranking factor despite what some may say and Google is still trying to strong arm the SEO communities news cycles whilst siphoning more of our well deserved clicks.
In this case study I'll be showing you how I used a mixture of modern day black hat link building, technical SEO & topical content optimization to rank a site that earned me over $20,000 per month in CPA commissions, in one of the most competitive niches in the world –
Though I won't be showing you guys the site itself, I have shown it to a lot of people in this industry who will confirm it's authenticity and my ownership.
A lot of people say that "black hat SEO is dead" or doesn't work anymore because of X.. Generally though, they're talking about the old school techniques of firing hundreds of thousands of links from XRumer or GSA SER.
Anyone outside of some foreign SERPs will tell you that those kinds of tactics & tools have been dead for years, but buying link placements directly from sites or people with access to them, stealing competitors backlinks & utilizing your own (or very good, private vendors) private blog networks are working better than ever – The site above is powered by all 3 in fact.
Likewise, they may say that you'll rank for a short period of time and then it'll fall off, or even get yourself penalized.. But again, these strategies are almost indistinguishable between a natural campaign & a manipulated one, except the manipulated one takes 1/10th the time & earns way more money.. And though we'll be focusing on the above site in this particular case study, this theory is tested time & time again –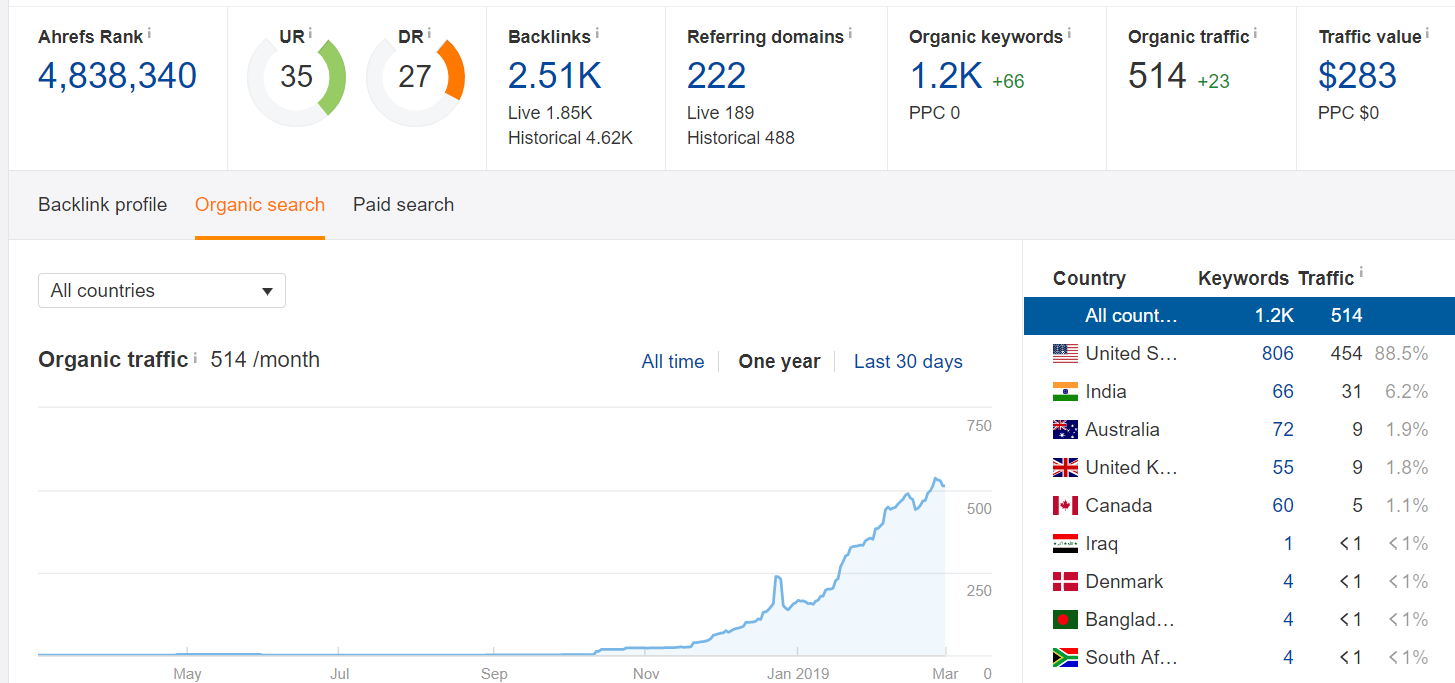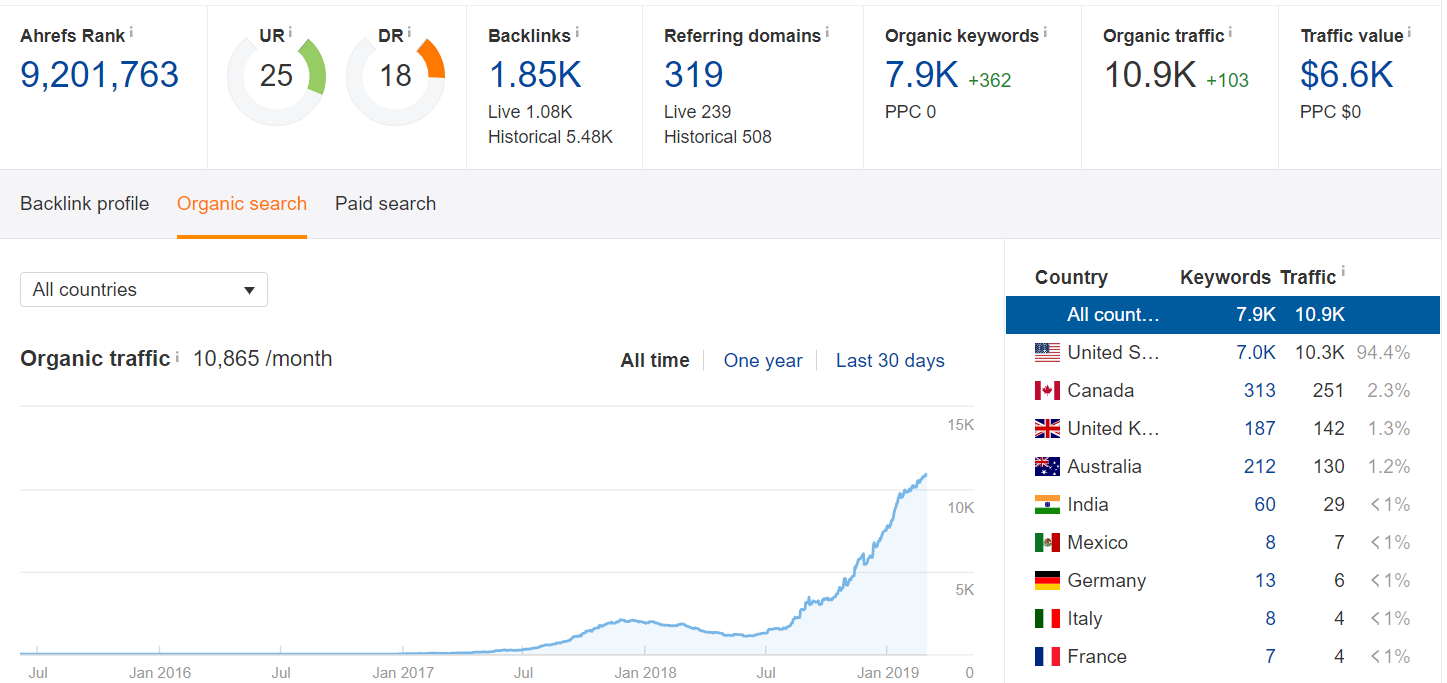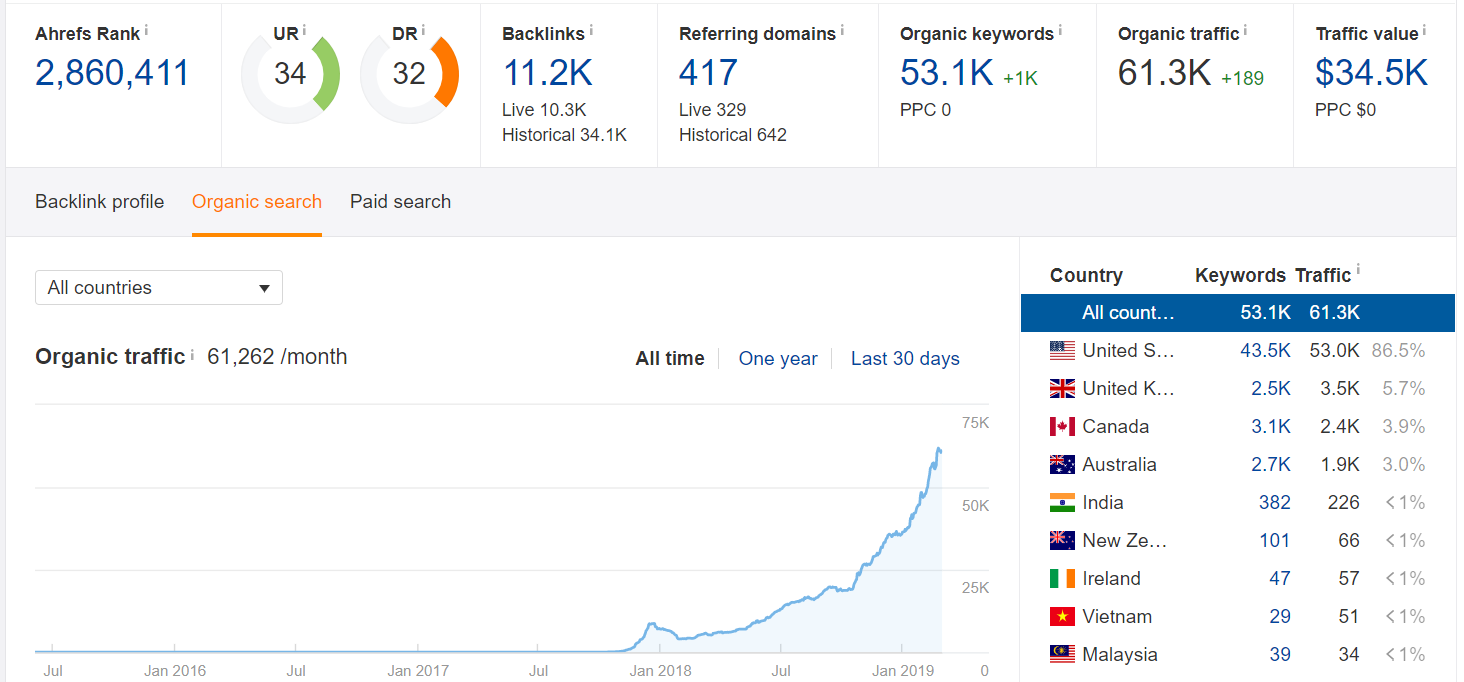 Why These Tactics Work
You might think that Google's algorithm's would easily pick up on these kinds of tactics & techniques, but realistically, the site's look more legitimate than most.. because we tend to be better at building websites than most big companies are, or at least for what Google's bots would deem a good site anyway.
Likewise, the algorithm's are nowhere near smart enough to be able to tell the difference between the links we build, and the links some fancy PR company "naturally acquires" for $1,000 each.. In fact, ours still likely hold more weight when it comes to actually ranking due to the tier 2 techniques we're using.
Google's algo's have become very finely tuned to give benefits to what Google's algo thinks are good signals. Do NOT confuse this with "E-A-T", that is taken from the manual reviewers guidelines and has absolutely nothing to do with how the algorithm ranks your website.
For example, the way the current version of the Penguin algorithm works, is it gives weight to pages depending on the pages that link to that page.. That's why people have been complaining about Forbes links not working, because they're brand new posts that either generate a load of worthless syndicated links OR just simply don't generate any links at all.
I've seen the exact same thing happen time & time again with guest posts, with PBNs, with every link that'll move the needle under the sun.. You point it directly at your website and you either see a neutral effect, a negative effect or a positive effect.
In those 2 points of negative and neutral, if you change that link to point at one of your backlinks on a high RD, multi-niche domain.. Like Forbes, then it has a completely positive effect. This is all my theory, but it's backed up by multiple sites ranking of both my own and ones I've reverse engineered.
I think Google has something baked into the algorithm that decides if a site is a real authority, but covers multiple niches, then it can takes links that would otherwise hurt other sites that don't have the same page count, link profile and social shares.
It's the exact same reason why Parasite SEO has worked so well over the years.
As Roger Montti pointed out, you can even find traces of this logic in Google's own patents –
…a system that ranks pages on the web based on distances between the pages, wherein the pages are interconnected with links to form a link-graph. More specifically, a set of high-quality seed pages are chosen as references for ranking the pages in the link-graph, and shortest distances from the set of seed pages to each given page in the link-graph are computed.
I realize that probably sounds like a bunch of technical jargon.
All it means is:
That Google starts with a set of seed pages it believes to be valuable – Well, for them to index the web, they have to start somewhere right? It values these pages as the references to begin it's ranking and crawling of the web.
It calculates the distance between those seed pages and another web page, and assigns a rank accordingly.
"The quality of distance is important" – This means that the quality of the pages in-between your own links can matter too.. Essentially, you need to look at the links pointing at your links, and if you're doing what I am doing.. You want to manipulate them too.
How This Works
First, we either take an aged domain or we work with a company that isn't ranking for anything but has an aged domain with a website on it.
Then, we either build a site out OR we upgrade everything about the site itself.
In this specific case study, we took an already existing business that was getting about 300 organic visitors per month and took them to over 30,000 visits per month in just 6 months time.
The domain was already just over 3 years old, it had a handful of pages on the site (Though no optimization at all) and had next to no backlinks.
OnPage SEO
Though links are still the most important part of a site, it's almost impossible these days (Without gigantic budgets to play with) to rank a site with just links.
You need to have the minimal OnPage optimization just to compete with most sites on pages 3 and beyond now for most medium competition keywords, let alone the 20k+ monthly search stuff.
This Campaign's OnPage
I will get into how to go about optimizing these things specifically, but first I thought I'd explain the specific campaign the site I optimized started off with & how we optimized it:
5 Main Pages – Home, About, Contact etc
Several Blog Posts (Unique, well written, but not interlinked)
Indexed application, signup, login etc pages
No Optimized Titles (Just the page names as meta titles)
No Sitemap
3 Year Old Domain / 18 Months Indexed Site
The first thing that sprung out to me was that on every page the meta titles were formatted to "Brand Name – Page Title" – This was poor optimization due to the fact you should be putting your keywords at the beginning, and often the title of the page alone won't fully explain the page or give optimal keywords.
So, I went through and edited every single meta title on the site to be keyword optimized and include the brand name at the end
Next we noindex'd any unnecessary pages and created new pages targeting new keywords the site wasn't previously, OR was targeting on a current page but in a minimal or cannibalistic way. We also upgraded any current pages to make sure everything followed a criteria of 1,000 words or more and had sync'd, targeted internal linking.
Then we built the sites 2 sitemap's, 1 in HTML which we linked in the footer and one in XML which we submitted to Google's webmaster tools.
Then we ordered and drip fed a series on relevant, 1k+ word blog posts with copyright free imaging & optimized internal linking. We aimed to publish 2 blog posts per week, and would generally build a backlink or 2 at each blog post we put up.
The site was only small, and it was only around 30 indexed pages in total even after we were finished optimizing it. I actually prefer these kinds of sites to start off with, they have already been indexed and gained age but have a very blank slate – They haven't been given a chance to mess things up or hurt the sites rankings, making it a perfect foundation to build upon.
EV SSL Certificate
An SSL certificate should be standard practice in today's SEO world, Google Chrome isn't the first browser to let users know if a page is secure or not.. And soon, sites without SSL certificates will appear like this –
If you're going after any sort of buyer intent (Buy, Cheap, Sale, Currency Value etc) keywords or data sending intent (Apply, Direct, Download etc) keywords, then I highly recommend getting an EV SSL certificate. This links a real world business to the website, and we have seen significant correlation between using an EV SSL and ranking for the above intent type keywords. We used an EV SSL in this specific case study.
It makes sense, it's one of the easiest ways for Google to validate if a business is real or not. Other than things like Whois data, Google Maps listings and social accounts. Oh, but all of those can also be manipulated.
Meta Title Optimization
I optimize my meta titles to try and include every main keyword I believe that page has the intent for and finish off with my brand name and the country I'm located in if that has additional search volume. For example, if your niche were bathroom furniture (And UK based) and you wanted to rank for a variety of keywords around that, such as –
Buy Bathroom Furniture
Bathroom Furniture UK
Cheap Bathroom Furniture
Then you'd optimize your meta title to be something along the lines of:
Buy Cheap Bathroom Furniture At Brand Name UK
This would include all of the keyword variants you're trying to rank for and in a clean, natural looking meta title with no pesky drainpipes – I hate drainpipes.
Though we did write meta descriptions, these have no value to rankings anymore so they were purely created for CTR purposes, targeted at potential visitors.
Internal Link Sculpting
Internal linking is one of the most overlooked traits of OnPage SEO, and one of the most effective when you sculpt the way link flows to your most important pages.
From my own testing, you can be considerably more aggressive with your internal anchor text choices than you can with your backlinks anchor text.
In this case, we simply interlinked our money pages with the most exact match keywords we could (Because these would have the most "link juice" pointed at them) and went for the more longtail variations on our blog post campaign.
Content Optimization
This is actually one of the most important parts of the entire campaign. When reviewing the competing pages, I noticed most were around a 1,000 to 1,500 words in length.
However, I noted that most weren't using keyword optimized headings, there was no internal linking from these pages, no image alt tags, no schema markup. In fact, most pages were just a call to action towards the top and blocks of content underneath.
TF*IDF
Firstly, I collected the top 10 ranking pages and ran them through Link Assistant's TF*IDF tool. This calculates the term frequencies of each page and then compares it to the other pages.. It's a super simple way to find new keywords you weren't using, and to calculate keyword density if you want to use that technique.
Personally, it gives me a range of new words to give to my writers and gives me even more data to use for keyword research.
Headings
One H1 per page, and as many other headers as you'd like.. I don't like more than 1 header to every 200 words. If you're doing E-Commerce SEO and using headers for product names on category pages, I suggest asking your devs to opt to use HTML or CSS styling instead.
Super simple, I want to make my headings natural whilst also keeping keywords in mind. This targets Google's favourability towards featured snippets, even in our CPA niche.
If we were going with the above example of bathroom furniture, we could go with things along the lines of –
Our Bathroom Furniture Company
Bathroom Furniture Ideas & Inspiration
UK Made Bathroom Furniture
Content Depth 
I didn't want (or need) to make the content insanely long. I opt'd to make each of our money pages around the 1,500 word mark, this kept up with our competitors with the largest levels of content on the site.
We used British writers with a journalism degree to supply the content, paying £150/Landing Page & £50/Blog Post.
Sitemaps
From our own testing, the way you configure your sitemap doesn't really matter. Google doesn't tend to take your page update frequency into consideration, at least not anymore.
That being said, you still need to keep on top of your sitemaps – Especially if they're auto-generated. You can severely deplete the resources Google allocates to your site by giving it pages that are unnecessary to crawl. Google will tell you that crawl budget optimization is overrated, but I'll tell you that Google is lieing.
NoIndex
There were a few pages that were not supposed to be in the index, if you have a very large site it may be difficult to do.. if not, you can just do a simple Site: query and go through and find pages to purge from the Google index with the noindex tag, this optimizes your crawl budget.
The above result is for my own site, and I see a result at #1 on Page 3.. This is a result that isn't super relevant to my blog and was an email newsletter link I shared out, it being <500 words & could be misconstrued as off-topic for the site, would make it an ideal candidate for NoIndex'ing.
My Specialized Link Building Campaign
So essentially we're using our old friend tiered link building, but instead of using those old school tools or scraped content.. We're going to be spending a good amount of money (or time, if you have a lot of that instead of a decent budget) on the tier 1 links and making sure they're all "white hat" looking on high DR domains.
The site itself only had around 150 referring domains built at it, including a bunch of citations (Which would of been Nofollow, and not directly impacted the rankings) we had built to the companies real world address.
Tier 1 – Authority Links
We were building around 5 high quality, targeted links per month from big authority sites in the niche. These types of links that we were building would look like this in Ahrefs –
These types of links would consist mostly of links that would be introduced into posts that we would acquire by paying off editors, journalists and writers. We would also editing existing posts in a similar manner – Looking for related blog posts.
As a great example of creative black hat link building, we had a client that wanted a link on the New York Times.. Most clients want links for SEO OR having a "As Seen On" that they can link off-site to. We couldn't find many people that were selling links, and those that we could find were pricing into the thousands of dollars. We gotta make a mark-up too, and this client wouldn't of liked a double digit figure from us.
So, we went onto LinkedIn, made a fake profile of a PR Recruitment person and started messaging every intern we could find on LinkedIn that worked at the NYT. Soon enough, we found one that was an intern for a journalist that would help proof read & attribute stories.. $150 into his PayPal probably bought his lunch for the next few weeks and we got a link on to a story that was completely irrelevant to our site – So we had one of our writers put together a 1,500 word guide (She's an English born writer with a journalism degree) that merged the 2 topics and the link was placed. With a total cost of $400, we had gotten a link on the New York Times & sold it for a cool $5k.
We use these kinds of sneaky tactics, and my connections in the SEO/Journalism/Webmaster communities to build high quality, relevant links at our sites.
Whilst having related anchor text is optimal, we don't really care too much if the link is an exact or partial anchor, because the OnPage optimization we did at the start of the campaign will rank us for the specific keywords.
Tier 1 – Guest Posts
We use DR60+ guest posts that are as niche relevant as possible to our original topic as possible – This means the site, article and link is as relevant as possible..
We don't care too much about keyword specific anchor texts, as the keyword focus our OnPage earlier did will rank us, the links will just provide the juice and authority to do so.
Bonus Tip: If you have a limited budget, swap guest posts and tier 2 PBNs with niche edits as they're on existing pages, often already have RD themselves and are significantly cheaper.
Tier 2 Links
As you can of seen from the below Ahrefs screenshot, our authority links.. Had links –
You don't need many for this.. You just need them to be of decent quality. On average, we were only building 3 – 10 links at each one of our own authority links.
These types of links weren't your traditional tier 2 links of SAPE or Web 2.0s – Instead, we went with high quality, high RD, aged private blog networks and a mixture of alternative guest posts or edits that were on smaller sites or sites in an alternative niche, that we didn't think would have much of an impact direct at our own site.
In total, we built nearly 250 tier 2 links at the 50 or so guest posts we had built at the site.
We didn't build any links at the Niche Edits we had built at the site, as these links that were on old posts already had links themselves.
We also built 8 very high quality, strong finance PBNs from our own personal network directly at the site, over the course of the first 4 weeks – This was to give the new pages we had custom built a kick straight off the bat – As a caution, it will help speed up the process, but does pose additional risk to the site.
You can read my guide on tier 2 link building here.
Note: We also used a professional local package for citations and homepage anchor diversity.
The Results
As you saw from the screenshot I first shared –
We saw a significant rise in traffic in a 6 month time frame, for highly competitive keywords with CPCs that were worth $10 and over..
With a total SEO cost of around $17,250 (Not including my own or employee time spent on the campaign) the site quickly rose to generate over $20,000 per month in CPA commissions for us and over $110,000/Month in revenue for the client. That is one great ROI, and pretty good pudding for 1 site when black hat is supposedly dead in 2019.
Wrapping It Up
I hope you enjoyed my post and it gave you either a new perspective on the black hat SEO game or some new ideas to take away for your own projects. Even if you're a true white hat at heart, you can't help but love those rankings and creative reverse engineering/manipulation.
If you have any questions, feel free to tweet me. Thanks!